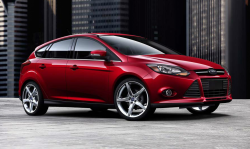 — A Ford Focus door latch lawsuit might be forthcoming as attorneys investigate failures of the door latches that allow the doors to open while driving. The legal investigation includes the 2012-2013 Ford Focus, the same model currently under a safety investigation by the National Highway Traffic Safety Administration (NHTSA).
NHTSA opened its safety defect investigation in January 2016 after receiving 73 complaints about broken door latches on Ford Focus cars. Based on the results of NHTSA's investigation, about 400,000 Ford Focus cars could be recalled.
A typical complaint talks about seeing a warning light that says "Door Ajar" and finding the door unlatched. Drivers report doors opening while driving, or trying to close a door only to watch it rebound because the latch wasn't in the correct position.
Some owners say they had to tie the doors shut just to keep from falling out of the cars.
Owners of the 2012 Ford Focus have described the consequences of a broken door latch, from the extra expense of towing bills to children almost falling out because of doors opening while driving.
"We believe this is a serious safety issue as one of our kids almost fell out of the car because we didn't realize the door did not catch! the rear left door will not stayed closed. The mechanism is not catching at all and the door is a safety issue. A couple of months ago, the passenger front door did the same thing. We ended up taking it to the dealership and it cost $100 to repair, but we don't feel this is right." - 2012 Ford Focus owner / Henderson, Nevada
"The driver side door latch broke while at the gas station and had to get it towed to the dealership for safety reasons." - 2012 Ford Focus owner / Ontario, California
Door latch problems have been an ongoing problem for Ford, not only with the Focus but with other models as well.
Although the root cause of the door latch problems in Focus cars hasn't been determined, the automaker believes it knows why the latches fail in other models.
The latch problem was investigated by NHTSA in September 2014 after complaints about 2011-2013 Ford Fiestas.
The original investigation included about 205,000 cars after the government received 207 door latch complaints from Fiesta owners. Another 451 complaints were submitted directly to Ford. The government then expanded the door latch investigation in March 2015 to include Ford Fusion and Lincoln MKZ cars.
Ford finally ordered a recall of 390,000 Ford Fiesta, Fusion and Lincoln MKZ cars to replace the door latches. However, that recall was expanded a few weeks later to include 546,000 of those models.
The cause of the door latch failures was determined to be pawl spring tabs that break.
An investigation has been opened by Girard Gibbs into a potential class-action lawsuit concerning 2012-2013 Ford Focus door latch failures. Click here to learn more.