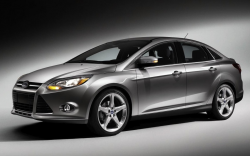 — Ford Focus door latch problems are under investigation by the government, an investigation that could possibly lead to a recall of 400,000 Ford Focus cars.
The National Highway Traffic Safety Administration (NHTSA) says 2012-2013 Ford Focus owners keep complaining about door latches that fail and cause the doors to open.
To date, NHTSA has received 73 reports about door latch incidents, many that talk about seeing a "Door Ajar" warning light on the instrument panel. Those 73 reports are only those that have been submitted directly to the government. It's likely Ford has received many more complaints about the Focus door latches.
Some drivers say the doors opened while driving and had to be physically tied shut. Other drivers discovered the door latch problems when shutting a door and watching (or feeling) it rebound, something that caused one person to sustain an injury.
The complaints that led to this Ford Focus investigation are the same type of complaints that caused Ford to recall almost 600,000 vehicles in the past. In previous recalls, Ford said the door latches failed because of pawl spring tabs that broke.
In September 2014, NHTSA opened an investigation into 205,000 model year 2011-2013 Ford Fiestas after complaints about failing door latches.
Then in March 2015, the door latch investigation was expanded to include the Ford Fusion and Lincoln MKZ.
In April 2015, Ford recalled 390,000 Ford Fiesta, Fusion and Lincoln MKZ cars to replace the door latches, then in May the recall was expanded to 546,000 of those cars.
The Ford Focus door latch investigation will determine if there is a safety defect and if 400,000 cars should be recalled.
CarComplaints.com will update our website with results of the investigation. Until then, you can read complaints about the 2012 Ford Focus, 2013 Ford Focus and other model years of Ford Focus cars.