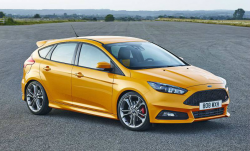 — Ford is recalling 74,000 cars and 2,600 minivans to fix rear hatchback and panoramic roof problems.
Ford Focus Recall
About 74,000 Ford Focus cars have rear hatchbacks that can be unlocked and unlatched with just one press of the interior latch release when the Focus is traveling under 4 mph (7 kph). Federal safety laws say the hatch should unlatch and open only when two separate actions occur to unlock the door.
Ford says the latch release button is located on the left side of the steering column and an accidental hit to the button could cause the hatch to unexpectedly open. However, the automaker says it isn't aware of any accidents or injuries related to the latch problem.
The 2013-17 Ford Focus cars were built between February 12, 2012, and August 26, 2016, and the 2016-2017 Ford Focus RS cars were manufactured between August 3, 2015, and August 26, 2016.
Ford says about 64,038 recalled cars are in the U.S. and another 9,877 are in Canada.
Ford dealers will reprogram the body control modules when the recall begins November 14, 2016.
Owners may contact Ford at 866-436-7332 and refer to recall number 16C13.
Ford Transit Connect Recall
Ford says about 2,600 model year 2014 Ford Transit Connect minivans with panoramic roofs need repaired because the glass roofs can leak or completely detach from the vans. The problem is caused by a bad bond between the panoramic roof and the body of the Transit Connect van.
The faulty seal may cause wind noise, water leaks and in certain cases the glass can fly off the van and cause a hazard on the road. It could be a dangerous situation to travel behind one of these vans as the glass releases from the vehicle, but the automaker doesn't know of any accidents or injures related to the problem.
Dealers will remove, clean and reinstall the panoramic roof on the minivans. The recall is expected to begin October 31, 2016.
Ford may be contacted at 866-436-7332 and its number for the Transit Connect recall is 16S35.
Check out what owners say about the Ford Transit Connect and Ford Focus.