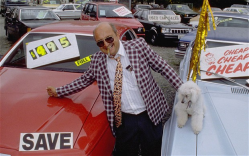 — The Federal Trade Commission (FTC) has hit General Motors with a 20-year consent order over claims that GM and two large dealerships sold "certified" used cars with deadly safety defects.
Three separate complaints were filed against General Motors Company, Jim Koons Management and Lithia Motors Inc. Koons and Lithia are two of the largest used car dealers in the U.S., with Jim Koons Management having 15 dealerships and Lithia Motors owning more than 100 stores in the West and Midwest.
All three companies have agreed to settle the separate FTC complaint allegations concerning selling "certified" used cars that had been recalled but never repaired.
Many of the repairs involved serious safety defects, including ignition switches that have killed and injured hundreds of people. Other "Certified Pre-Owned Vehicles" that were sold had been recalled for dangerous conditions concerning engine stalling, brake problems and airbags that fail to deploy in a crash.
GM has proudly bragged about the safety and security of buying a "Certified Pre-Owned Vehicle" that passed a 172-point "vehicle inspection and reconditioning process." The GM advertising for that goes like this:
"Our 172-Point Vehicle Inspection and Reconditioning Process is conducted only by highly trained technicians and adheres to strict, factory-set standards to ensure that every vehicle's engine, chassis, and body are in excellent condition. The technicians ensure that everything from the drivetrain to the windshield wipers is in good working order, or they recondition it to our exacting standards."
The FTC says despite what GM advertised, cars were sold that were never repaired for the following safety defects:
Key ignition switch defects
Power steering defects
Braking defects
Airbag defects
Body control module defects
Chassis electronic module defects
Jim Koons Management Company, which also does business as Jim Koons Automotive Companies, advertises the following guarantee with its certified used cars:
"Every certified Koons Outlet vehicle must pass a rigorous and extensive quality inspection before it can be sold. Our certified mechanics check all major mechanical and electrical systems and every power accessory as part of our rigid quality controls."
However, the FTC found recalled cars being sold that needed repairs for the following defects:
Key ignition switch defects
Alternator-related defects (fire risk)
Rear suspension defects (fire risk)
Lithia Motors sold unrepaired vehicles that were advertised as going through a 160-point inspection.
" . . . vehicles are put through an exhaustive 160-checkpoint Quality Assurance Inspection. . . . We inspect everything from the tires and the brakes to suspension, drive train, engine components and even the undercarriage."
Nonetheless, the FTC says Lithia advertised vehicles that were subject to unrepaired recalls involving defects in the key ignition switch and other vital components of cars.
Under the 20-year FTC consent orders, the companies are banned from claiming their used vehicles are safe if the cars still have unrepaired safety recalls, or unless the companies clearly disclose the existence of the recalls in close proximity to the inspection claims.
The companies will also be forced to contact customers going back to 2013 and inform them about cars with open (unrepaired) recalls.
As for monetary fines, the FTC could impose a civil penalty up to $16,000 for each violation.