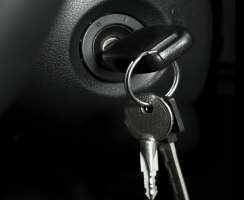 — General Motors has settled the last two bellwether ignition switch lawsuits in New York, bringing an end to the six test cases used as templates for numerous other lawsuits.
The lawsuits were filed after GM admitted it spent at least 10 years concealing ignition switch defects that killed and injured hundreds of people.
Those switches can move out of the "run" position from a bump in the road, a bump from a knee or the jostling of a heavy key ring. With the switch moved to "accessory" or "off," the car loses power brakes, power steering and the airbags.
The last two cases allege injuries occurred due to the switches and failure of the airbags, but details of the agreements are confidential.
The first trial was dismissed after the plaintiff was caught lying and the second trial saw the jury ruling the ignition switch didn't cause the crash of a 2007 Saturn Sky.
GM agreed to settle the third ignition switch lawsuit before the case reached the jury and the fourth case was dismissed.
A separate Texas lawsuit was won by GM after a jury found the ignition switch in a 2007 Saturn Sky had nothing to do with causing a 2011 crash that killed a truck driver.
The settlement will add to the $2 billion GM has already paid out because of scamming the public and government for 10 years. Some of that money includes $575 million to settle 1,385 death and injury claims and a shareholder suit, and $595 million to resolve claims for 124 deaths and 275 injuries caused by the defective ignition switches. Add to that $900 million to buy its way out of a government criminal probe.
GM faces many additional trials next year related to recalls of the ignition switches and cases scheduled based on the affected cars allegedly losing value.