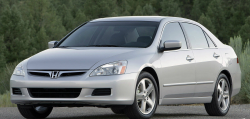 — Honda is recalling over 11,600 older Honda Accords to once again repair problems originally caused by Takata airbags. The 2004-2007 Accord cars were assembled with an incorrect front passenger airbag module that doesn't comply with what Honda says is the "advanced airbag requirements."
Although no automaker has recalled more Takata-inflicted vehicles than Honda, the process hasn't been an easy ride. Many recalled cars have been called back again because of problems with the first recalls.
Honda says this latest recall was ordered because of an investigation into Accord's that had already been recalled.
Between January and June 2015, the automaker received seven warranty claims concerning airbag inflator remedies that couldn't be completed. Honda says incorrect manufacturer inflator installation was to blame for the uncompleted repairs.
Honda ordered another recall to fix the airbags, but from July through December 2015, another 24 warranty claims were received.
By January 2016, another three claims came in and Honda continued to investigate the problems, finally deciding in March another recall was required.
The recalled Accords were manufactured October 1, 2003, to August 17, 2007, and all need to be checked to decide if the airbag modules should be replaced.
The Honda Accord recall should begin May 5, 2016. Owners who have questions should contact Honda customer service at 800-999-1009 and use recall number JZ3.
CarComplaints.com has complaints about the 2004 Honda Accord, 2005 Honda Accord, 2006 Honda Accord, 2007 Honda Accord and other model years of Accord cars.