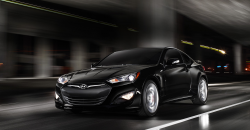 — Hyundai is recalling 84,500 Genesis Coupes because of problems with the front passenger-side airbags. The 2010-2016 Hyundai Genesis Coupes have passenger airbags that can fail to protect an occupant in a crash, or deploy in such a way as to harm a passenger.
Hyundai started investigating complaints about Genesis Coupes in November 2015 after owners reported airbag warning lights illuminating. Dealers found the occupant classification system connectors under the front passenger seats had been unplugged, causing the warning lights to activate.
Hyundai tried to determine what was causing the connectors to come loose and dealers were told to monitor the cars in the field. Two incidents at dealers confirmed what was causing the connectors to disconnect.
One dealer reported a perfume bottle under the seat made contact with the connector and caused the disconnect, and another dealer said the same thing occurred from a sunglasses case.
Dealers found that any items under the Genesis Coupe passenger seat can make contact with the occupant classification system electrical connector when a passenger moves the seat. Once the connector is disconnected, the airbag warning light will activate and the passenger-side frontal airbag will either deploy with too much force or not enough.
Hyundai says the system was created to deploy only the first stage of the airbag if the warning light is illuminated. This means a child sitting in the seat will get hit with the airbag when the airbag shouldn't deploy in a crash. On the other hand, an adult in the seat won't be adequately protected because the airbag won't deploy at full force.
To date, Hyundai says it has received no reports of accidents or injuries related to the problem.
The recalled 2010-2016 Genesis Coupes were built December 12, 2008, to June 11, 2016.
Hyundai Genesis Coupe owners will be contacted in December 2016 so dealers can make the connectors more secure under the seats.
Owners with questions should call Hyundai at 855-371-9460 and refer to recall number 151.