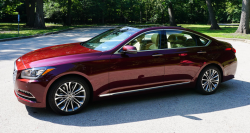 — Hyundai is recalling more than 3,000 model year 2015 Genesis sedans because the instrument lights can enter the twilight zone. The cars are equipped with seven-inch TFT-LCD instrument clusters that can perform the following tricks:
Illuminate all warning lights at one time.
Give drivers the wrong speedometer/tachometer readings.
Cause turn signal lights to fail when activated.
Cause malfunctions of the odometer.
Cause the lights to work only part of the time.
Cause all the instrument lights to fail.
Cause other "non-safety symptoms" Hyundai didn't name.
Hyundai blames the problem on a communication error between the audio/visual/navigation head unit and the instrument cluster.
The automaker says the software for the instrument cluster was updated in May 2015, but all the recalled cars will need the same update. For owners who have paid for repairs related to the instrument cluster problems, Hyundai will provide reimbursement for the cost.
The recalled 2015 Genesis sedans were built February 1, 2015, through May 20, 2015, and Hyundai says no accidents or injuries have been reported due to the defect.
The Hyundai Genesis recall will begin on September 30, 2016. Owners with questions should call 800-633-5151 and use recall number 147.
CarComplaints.com has complaints about the 2015 Hyundai Genesis and other model years of Hyundai Genesis sedans.