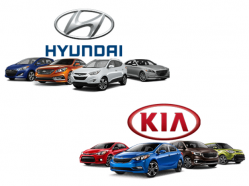 — Hyundai and Kia are still paying a huge price for their fuel economy sins from 2012 when the automakers were forced to restate mileage estimates on more than 1 million vehicles.
In November 2012, the Environmental Protection Agency (EPA) said Hyundai and Kia would lower their fuel economy (mpg) estimates after EPA testing found discrepancies between agency results and data submitted by the automakers.
Eventually, both companies had to dip into their bank accounts for about $300 million to settle mileage claims, but now Hyundai and Kia will need to pay an additional $41.2 million to 33 states and the District of Columbia.
The group of states include Alabama, Arizona, Arkansas, California, Colorado, Connecticut, Delaware, Florida, Georgia, Illinois, Indiana, Iowa, Kansas, Kentucky, Maryland, Maine, Massachusetts, Missouri, Nebraska, New Jersey, New Mexico, Nevada, North Carolina, Ohio, Oklahoma, Oregon, Pennsylvania, Rhode Island, Tennessee, Texas, Virginia, Washington, Wisconsin and the District of Columbia.
The fuel economy problems were discovered when owners complained about not getting the mileage they thought they should get. The EPA audited the vehicles after owner complaints and regulators determined a 2012 Hyundai Elantra showed a lower fuel economy rating than provided by Hyundai.
The EPA expanded their investigation and told Hyundai and Kia to create new window stickers for all the affected vehicles. Based on this action, owners took the automakers to court which led to the $300 million settlement agreements.
The EPA says the automakers are guilty of advertising fuel economy estimates one to six miles per gallon above real-world estimates. However, both automakers say the 2012 restatement of fuel economy ratings reduced their combined city/highway fuel economy by only 1-2 miles per gallon.
The $41.2 million agreement with the states will resolve consumer protection claims after the states investigated how much Hyundai and Kia misrepresented mileage estimates. Both automakers say the problem wasn't their fault and the $41.2 million agreement doesn't contain an admission of guilt.
Additionally, Hyundai and Kia say the problem would not have occurred if the EPA better clarified its testing procedures.
In addition to the financial penalties, Hyundai and Kia agreed to be monitored by the attorney general of each state included in the agreement.
"Hyundai recognizes that fuel economy is a consideration in many car-buying decisions, and remains committed to being responsive to customer concerns about our revised fuel economy ratings." - David Zuchowski, CEO of Hyundai Motor America
Owners of Hyundai and Kia vehicles can learn more information at HyundaiMPGInfo.com and KiaMPGInfo.com.