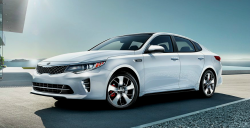 — Hyundai and Kia are recalling 50 cars to repair driver-side airbags that could fail to deploy in a crash.
The recall involves the 2017 Hyundai Elantra, 2015-2016 Sonata, 2016 Sonata Hybrid and 2016 Kia Optima that are missing a chemical enhancer that was supposed to be added to the airbags.
The chemical is a must for the second stage deployment of the driver's side airbags, but the chemical wasn't loaded into the airbags. If an airbag deploys in a crash, the first stage will deploy but without the second stage deployment the driver won't be protected.
The 2015-2016 Sonata cars were manufactured May 29, 2014, to February 11, 2016, the 2017 Elantras were built January 12, 2016, to February 22, 2016, and the one recalled 2016 Sonata Hybrid was manufactured October 15, 2015.
The recalls should begin in May 2016 for dealers to replace the driver-side frontal airbag modules.
Owners of the Hyundai Elantra, Sonata and Sonata Hybrid cars may call the automaker at 855-371-9460 and make reference to recall number 144.
Owners of the Kia Optima can call 800-333-4542 and give Kia customer service the recall number SC131.
Read complaints submitted to CarComplaints.com about the Hyundai and Kia cars named in the airbag recalls: