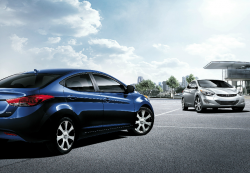 — Hyundai is recalling 155,000 Elantra cars with brakes that can suddenly activate with a corresponding loss of engine power. The automaker says even if one brake applies suddenly, it could cause serious trouble for a driver.
In February of 2015, Hyundai began an investigation after reports of intermittent activation of the vehicle's electronic stability control system accompanied by flashing of the warning light in the instrument cluster.
Technicians said the problem was a diagnostic code accompanied by illumination of the warning light indicating a malfunctioning Yaw Rate/"G"-Sensor. Hyundai kept monitoring warranty claims and collecting vehicle parts for investigation. The automaker tried to duplicate the problems but had no success.
On August 1, 2015, Hyundai received a report about a 2012 Elantra with reduced power, a flashing electronic stability control warning light in the instrument cluster and brake application of the right front wheel. A decision was made to recall all the cars before more damage is done.
The recalled 2011-2012 Hyundai Elantra cars were manufactured in Korea from November 11, 2010, through September 20, 2011. Additional 2011-2012 Hyundai Elantra sedans were built in Alabama from October 29, 2010, through October 25, 2011.
The Elantra recall should begin February 19, 2016. Hyundai dealers will verify the proper operation of the electronic stability control sensors and update the system's calibration.
Owners of the Elantra can contact Hyundai customer service at 800-633-5151 and give them recall number 137.
Read complaints sent to CarComplaints.com about the Hyundai Elantra.