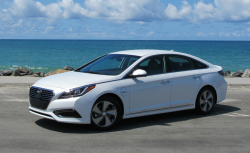 — Hyundai is recalling 62,800 Sonata and Sonata Hybrid cars equipped with panoramic sunroofs after reports of sunroofs detaching from the cars. The 2015-2016 Sonata and Sonata Hybrids have panoramic sunroofs with wind deflectors that weren't bonded properly.
Hyundai learned about the problem in March 2016 after a report of a Sonata panoramic sunroof panel detaching from a car when the sunroof was closed.
The automaker opened an internal investigation as more complaints came in about sunroofs detaching from the cars. Hyundai engineers confirmed damage to the wind deflectors and to the sunroof mounting points.
It was finally determined the sunroof can bind if the windscreen is out of position or if it's loose, and forcing the sunroof to close can cause the sunroof glass to detach from the Sonata.
A driver may notice a problem if they hear a noise caused by the loose wind deflector or if they have trouble getting the sunroof to fully close.
A panoramic sunroof glass that flies off a car and into traffic won't be good for anyone, but Hyundai says it is not aware of any reports of accidents or injuries related to the sunroofs.
The recalled 2015-2016 Hyundai Sonatas were manufactured May 28, 2014, to March 18, 2016, and the Sonata Hybrids were built December 8, 2014, to August 18, 2015.
The Sonata and Sonata Hybrid recall should begin December 2, 2016. Hyundai dealers will fix the problems by repairing the wind deflector anchor plates.
Owners of the 2015-2016 Hyundai Sonata and Sonata Hybrids equipped with panoramic sunroofs may call the automaker at 800-633-5151. Hyundai's number for this recall is 152.
Read complaints sent to CarComplaints.com about the recalled cars: