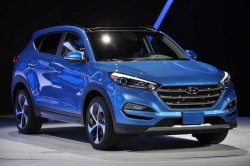 — A 2016 Hyundai Tucson transmission recall has been ordered for 41,000 model year 2016 Tucson SUVs because the vehicles can stop moving when the gas pedal is pressed and released repeatedly.
The SUVs are equipped with 7-speed EcoShift dual-clutch transmissions that use transmission control modules to constantly monitor data to help with gear shifting. The problem enters the picture when higher ambient temperatures are combined with certain driving conditions.
Hyundai says the transmission clutch application logic can cause a delayed engagement of the transmission when taking off from a stop. If the gas pedal is steadily pressed for 1.5 to 2 seconds, the SUV will begin to accelerate, unless a driver repeats the process which causes the SUV to stop moving.
Hyundai learned about Tucson customer complaints in June 2016 after owners said the engines would "rev" but the SUVs wouldn't move after coming to a stop
As a small sampling of complaints sent to CarComplaints.com from 2016 Hyundai Tucson owners:
"THIS IS COMPLETELY UNPREDICTABLE AND SCARY AS HELL! I have lost confidence in this car, and am totally unhappy with this car! I have filed a complaint with the National Highway Traffic Safety Administration (NHTSA) and anyone having this problem should also. Someone is going to be seriously hurt or killed." - 2016 Hyundai Tucson owner / Burlington, Massachusetts
"My 2016 Tucson Limited has a dangerous problem with the transmission. Intermittently It will not move when i give it gas. The RPMS go up to 6000 but the car wont move. Its the DCT transmission. Today I took it in for the 3rd time and I dont want it back until its fixed." - 2016 Hyundai Tucson owner / Williamsville, New York
"This is very unsafe vehicle to drive since you would not know when it would just stop shifting and driving. Have registered a complaint with Hyundai Motors as the service department does not know when the vehicle will be repaired. Thank the Lord no one was killed this time!" - 2016 Hyundai Tucson owner / Nashua, New Hampshire
Even with owners complaining about the dangers of driving, Hyundai developed a software update and instead of ordering a recall, the automaker issued a technical service bulletin to dealers in August. Not until meeting with the National Highway Traffic Safety Administration was Hyundai convinced to recall the SUVs.
The recall remedy will have dealers reprogramming the transmission control module software.
The automaker says even with all the complaints, no accidents or injuries have been reported.
The 2016 Tucson SUVs were built May 20, 2015, through May 31, 2016, and equipped with 7-speed EcoShift dual-clutch transmissions.
The Hyundai Tucson recall is expected to begin on October 28, 2016. Until then, owners may contact Hyundai at 855-371-9460 and use recall number 149.