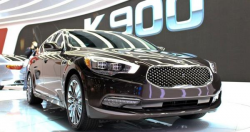 — Kia is recalling more than 3,000 model year 2015-2016 K900 cars with LED headlights that can fail.
Kia says when the light switch is in "auto mode," the switch can experience electrical resistance that can eventually cause the LED headlights to flicker and fail at any time, including when driving at night.
The automaker investigated the headlight problems and determined HID headlights don't experience the condition, but K900 cars equipped with LED headlights are a different story.
After reviewing consumer complaints and warranty claims, Kia said the condition initially appears as flickering or a brief loss of the headlights. In addition, the automaker says it is likely the periods of headlight loss will increase as the electrical contact points lose connectivity over time and use.
To date, Kia has received 46 reports from owners about the problem and 79 warranty claims, although no accidents or injuries have occurred.
The recalled Kia K900 cars were built December 18, 2013, to January 11, 2016, and all are equipped with LED headlights only.
The Kia K900 recall should begin May 27, 2016. Kia dealers will replace the multi-function switch with a switch made with redesigned electrical contacts.
Owners of the recalled 2015-2016 K900 cars may contact Kia at 800-333-4542 and use recall number SC130.
CarComplaints.com has complaints about the Kia K900 and other Kia models.