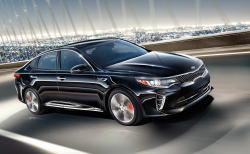 — Kia is recalling more than 12,200 Optima cars to fix dangerous problems with the driveshafts. The 2016 Kia Optima cars are equipped with 2.4-liter engines and right front axle driveshafts that can crack and fail.
Kia says the right front axle driveshaft of the Optima can crack in the area of the stub at the wheel end of the shaft. When moving from a stopped location, the crack can lead to a separation of the shaft, causing a loud noise. After this, the Optima will lose its ability to move forward.
In addition, if the driver fails to engage the parking brake when the car is parked on an incline, the Optima may roll away and out of sight.
Kia learned of a problem in May when a dealership reported a cracked right front axle shaft on a 2016 Optima equipped with a 2.4-liter engine. By June another busted axle shaft was collected and then the automaker found four warranty claims related to the symptoms.
In August, another two warranty claims were filed and after an investigation by Kia and its supplier, the decision was made to recall the cars.
While cracked axle shafts can cause dangers on the road as the Optima suddenly stops moving in traffic, Kia says it is unaware of any accidents or injuries related to the defect.
The recalled 2016 Kia Optimas were built November 13, 2015, to April 23, 2016, and again, all are equipped with 2.4-liter engines.
The 2016 Kia Optima recall should begin November 29, 2016. Kia dealers plan on replacing the front axle driveshafts, but the automaker didn't say how long the job will take.
Optima owners may contact Kia at 800-333-4542 and refer to Kia's recall number SC139.
CarComplaints.com has owner-reported complaints about Kia Optima cars.