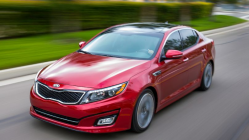 — Is your Kia Optima steering wheel clicking or catching? For 2011-2014 Kia Optima owners who have complained about steering wheels clicking, catching and slipping, a technical service bulletin (TSB) issued by Kia might be the answer.
Kia Optima steering wheel complaints have occurred for years, with owners describing various problems with the feel of the steering wheels. The automaker issued the TSB based on the steering wheel "slipping" or feeling "notchy." It's important owners of the 2011-2014 Kia Optima ask their dealer exactly which steering problems are covered under "slipping" and "notchy."
Kia owners have described their Optima steering wheels as performing various tricks, all which left the drivers searching for help.
"My Kia Optima, was working fine till this morning when I was going out of my apartment complex to merge into the two way street, I was not able to turn left all of the sudden my steering wheel does not move right or left and it was in vertical position just like when you need to spin it all the way to one end. I was terrified and I need help. I think this should be a recall issue for the Kia." - 2011 Kia Optima owner / Columbus, Ohio
Another 2011 Kia Optima owner describes the feel of the steering wheel by using the word "snap."
"Within the first few days of purchase we noticed that when traveling for more than 20 miles, the steering wheel has a "catch" in it. By catch, I mean that when we try to correct our position in the lane, it feels like there is a snap in the steering. My way of describing it to the dealership is when you go to crack your knuckle, you can feel it is about to snap before it actually does. This is what our steering does. You cannot keep the car in a straight line. Constantly having to correct steering." - 2011 Kia Optima owner / Cement City, Michigan
Owners should keep in mind the Kia Optima steering bulletin is not an official recall. Typically owners won't receive notification of the bulletin, so you'll need to contact your dealer and ask them about any technical service bulletins issued concerning the steering.
Kia says dealers will inspect the Optima to determine if the problem is caused by software or the electronic steering motor. Based on the results, the steering motor will be replaced or the software will be updated.
Owners of the 2011-2014 Kia Optima who want to learn more should call the automaker at 800-333-4542.
Read what owners complain about concerning Kia Optima steering problems: