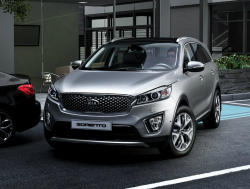 — Kia is recalling 7,900 Sorento SUVs to fix rear suspension problems that could cause a driver to lose control. The 2016 Sorento SUVs may have incorrect welds that could break and cause problems with the alignment of the rear suspensions.
During the welding process at the supplier, the assist arm bracket may not have been seated correctly to the rear crossmember prior to adding the welds. Because of this mistake, the welds may have failed to connect the bracket to the crossmember, something that could cause the welds to break.
A busted weld could cause a sudden change to the rear suspension alignment and make the SUV difficult to control.
A driver may notice a popping or clunking noise if the welds are broken and also experience a change in control of the rear-end of the SUV.
The automaker says the supplier has since made changes to its manufacturing process by installing a stopper for the air pressure valve to prevent maintenance workers from improperly adjusting the air pressure. The supplier also installed a limit sensor to ensure the assist arm bracket is seated properly to the crossmember.
Owners of the 2016 Kia Sorento who have already paid to have the rear crossmember assembly replaced should mail the receipts with a cover letter directly to Kia for reimbursement.
Kia dealers have been told to inspect the welds connecting the assist arm bracket to the rear crossmember and replace the rear crossmember assembly if necessary.
The recall should begin July 27, 2016. Kia says it could take up to four hours to make the needed repairs, but until then Sorento owners can call 800-333-4542 and ask for information about recall number SC137.
CarComplaints.com has complaints about the 2016 Kia Sorento and many other model years of Kia Sorento SUVs.