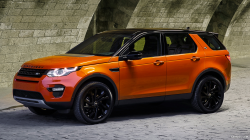 — Land Rover is recalling more than 22,600 SUVs with transmissions that can shift into neutral when they shouldn't, causing all kinds of serious problems if it occurs when driving.
Land Rover says the 2015 Discovery Sport and 2014-2015 Range Rover Evoque SUVs have transmission sensor clusters that may have insufficient crimps in the transmission wire harnesses.
In June 2016, ZF North America contacted Land Rover concerning problems affecting other automakers caused by transmission wiring harnesses that weren't crimped properly. Land Rover learned about a Fiat Chrysler recall issued in July to fix the transmission problems, then a ZF recall announced by the National Highway Traffic Safety Administration in August.
The August recall involves more than 500,000 ZF transmission sensors relating to 9-speed automatic transmission wiring harnesses installed in vehicles by multiple automakers, including Land Rover.
ZF is the same company responsible for gear shifters installed in Chrysler vehicles that have caused more than 700 complaints and reports of 68 injuries and 266 crashes, in addition to a recall of 1.1 million Chrysler vehicles.
A ZF electronic shifter is also the primary focus into the death of actor Anton Yelchin when his Jeep Grand Cherokee rolled away and crushed him against a concrete mailbox.
The 2015 Discovery Sport SUVs were manufactured September 17, 2014, through November 3, 2014, and the 2014-2015 Range Rover Evoque SUVs were built July 15, 2013, through July 1, 2015.
The Land Rover recall should begin October 14, 2016, when dealers will inspect the automatic transmission serial numbers and if required, will update the transmission software to prevent the transmissions from shifting into neutral.
Owners of the Discovery Sport and Range Rover Evoque may contact Land Rover at 800-637-6837 and use recall number P091.
CarComplaints.com has complaints about Land Rover vehicles.