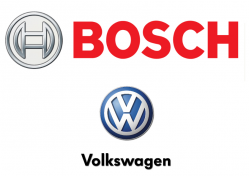 — German electronics company Robert Bosch GmbH is the target of another lawsuit that alleges the company was a willing partner with Volkswagen and its emissions scheme that continues to play out.
A U.S. District Court in San Francisco is the home of the latest lawsuit that alleges Volkswagen and Bosch worked "hand-in-glove" with VW to create the "defeat devices" that fooled emissions testers for at least seven years.
Volkswagen has already agreed to pay about $15 billion in the U.S. after the automaker was caught cheating on emissions tests by using sophisticated software the government calls "defeat devices." The software creates a condition where the vehicles test legal in the lab, but in the real world emit dangerous nitrogen oxides up to 40 times above legal standards.
Attorneys claim Bosch played a crucial role and "profited handsomely" from the fraudulent enterprise. The lawsuit names 38 Bosch employees and CEO Volkmar Denner as the parties involved in the alleged deception.
Bosch makes parts and systems for many automakers and can customize everything based on what an automaker wants for its models. In the case of VW, Bosch says it supplied software and other parts related to emissions systems, but it was VW that chose how to use the software and parts.
However, court documents says it is "inconceivable" that Bosch didn't know the "software it was responsible for defining, developing, testing, maintaining and delivering contained an illegal defeat device."
Bosch responded to the lawsuit by saying "wild and unfounded" claims have been made that the supplier knew about and participated in VW's deception for years, but the plaintiffs are basing their claims on pure speculation.
This isn't the first lawsuit that accuses Bosch of enjoying profits because of VW's fraud. In December 2015, a Michigan lawsuit was filed by a plaintiff who claims that as early as 2007, Bosch warned VW about using its software in vehicles and that doing so would be a criminal offense.
However, Bosch still sold or licensed 11 million of the device components over a period of seven years allegedly knowing that Volkswagen was using them in vehicles on the roads.
The Michigan lawsuit alleges $33 billion in profits were gained from selling diesel cars with defeat devices over the last seven years and Bosch should have refused to sell the parts to VW. Instead, Bosch allegedly decided to profit from the automaker's fraud, making the company a co-conspirator with Volkswagen.