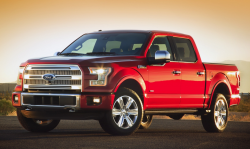 — Federal safety regulators are investigating 2015-2016 Ford F-150 trucks after reports of brake pedals going to the floorboards, a complete loss of brakes and dealerships diagnosing the problems as caused by faulty master cylinders.
The National Highway Traffic Safety Administration (NHTSA) says the complaints are similar to what caused a May 2016 recall of 271,000 F-150 trucks to fix brake problems that caused nine accidents. The May recall involved 2013-2014 Ford F-150 trucks with 3.5-liter engines with master cylinders that leaked brake fluid into the brake boosters.
NHTSA says complaints about 2015-2016 F-150 trucks indicate a possible difference between model years, although all the trucks are equipped with 3.5-liter engines.
Based on current complaints, owners of 2015 F-150 trucks say the brake pedals suddenly drop to the floorboards at the same time all braking is lost. Those owners also complain about brake fluid leaking out, which matches what truck owners said occurred to their 2013-2014 F-150s.
Most 2016 owners report they completely lost the brakes but no warning lights activated.
"So I'm driving around town and make a turn, and the pedal goes to the floor. So while driving straight the brakes work fine. I found that I had no brakes hard left or right but sufficient brakes head on. Then a couple of days later I'm coming up on a light stopped with traffic. I touch the brakes and being straight on, they go to the floor. A week later and I am not sure I want to keep the truck. Dodge is looking better and better!" - 2016 Ford F-150 owner / Tallahassee, Florida
And the driver of a 2015 Ford F-150 described what happened to them when the truck had only 9,600 miles.
"While driving approximately 70 mph and upon slowing down to exit the highway, the brake pedal traveled to the floorboard. The contact managed to pull over to the side of the road and drove slowly to the dealer. It was diagnosed that the master cylinder caused the brake failure." - 2015 Ford F-150 owner / Shreveport, Louisiana
NHTSA's investigation will determine if 282,000 model year 2015-2016 Ford F-150 trucks should be recalled as occurred with the May recall of 2013-2014 model year F-150 trucks.
The past few days haven't been good to Ford as the automaker learned it was also facing investigations into Ford Fusion power steering problems and possible door latch problems in Ford Edge cars.