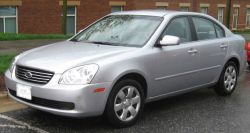 — The National Highway Traffic Safety Administration has been asked to investigate a crash that killed twin 7-year-old boys and an 83-year-old woman. The 11:30 a.m. New Year's Eve crash in Winchester, Tennessee, occurred when a 2008 Kia Optima traveling 90 mph slammed into the rear-end of a minivan.
The minivan was stopped at a traffic light at Highway 41 and Bypass Road when the 2008 Kia Optima, driven by Mary Jane Parks, crashed into the back of the minivan, sending the minivan into a Ford F-150 driven by Robert Evans. The damage to the minivan was so severe it was difficult to tell it was a minivan (see image).
In the minivan were Lynetta and Aaron Hill, parents of twin 7-year-old boys James and John Hill. James Hill was pronounced dead at the scene and his brother John Hill died later at Vanderbilt University Medical Center in Nashville.
The driver of the Kia Optima, Mary Parks, died the next day in hospital, but before she died Parks told authorities it felt like the gas pedal was stuck and she couldn't get it to move.
Lynetta Hill was hospitalized with numerous injuries, including a collapsed lung and numerous broken ribs. Her husband is in critical condition and Jimmie Northcutt, 75, a passenger in the Optima, is listed in stable condition.
NHTSA was asked to investigate any possible mechanical malfunction after local police said they were concerned about sticking gas pedal issues in the Kia Optima.
This is the second fatal New Year's Eve crash the government has been invited to investigate based on possible unintended acceleration events.
NHTSA has agreed to send investigators to California to investigate why a Toyota Yaris slammed into another vehicle, all without leaving any skid marks. The California crash killed five people.