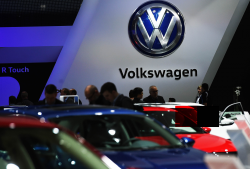 — A South Korean Volkswagen executive has been arrested after a warrant was issued by the Seoul District Court for charges related to Volkswagen's emissions cheating.
The arrest comes after South Korean authorities raided Volkswagen's offices in May after accusations the automaker forged fuel economy documents.
Unlike what occurs with automakers in the U.S., criminal charges overseas can mean arrest warrants and executives in handcuffs. U.S. auto execs can work for car companies on the receiving end of criminal charges, but prosecutors always allow the automakers to simply pay fines and penalties to satisfy the charges.
Not so in South Korea, as prosecutors issued the warrant after alleging the unnamed VW director intentionally altered vehicles to pass emission and noise tests necessary to import the vehicles.
The executive is accused of switching electronic control units in VW Golf cars after the cars had flunked emissions tests, in addition to noise and fuel economy tests. South Korean officials say the executive should have submitted test results for new cars but tried to fool the system by submitting test results for previous models.
The fraudulent activity has allegedly occurred for the past six years.
Charges include falsifying documents and violating environmental laws, possibly going back to 2010 after prosecutors determined Volkswagen manipulated tests that involved more than 24 Korean models.
In what could be even more trouble for the automaker, the VW executive told prosecutors he altered the software for the electronic control units based on direct orders from Volkswagen management.
The VW executive is the only person arrested so far in the scandal, but prosecutors say former VW CEO Martin Winterkorn and at least one other exec are under investigation. Officials say they want to know if Winterhorn or others admitted the cheating at a certain time for the purpose of affecting stock prices.
As Volkswagen prepares to spend $10.2 billion to buy back vehicles in the U.S., Volkswagen Korea is facing class-action lawsuits from owners who are demanding compensation similar to what has been offered to owners in the U.S.