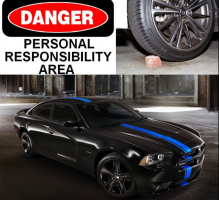 — More than 504,000 Dodge Chargers will be recalled in one of the strangest recalls ever ordered. It seems owners of 2011-2016 Dodge Chargers are having difficulty reading the owner's manual about how to change a tire when using a tire jack.
The Dodge Charger owner's manual clearly says "wheel chocks" should be used when changing a tire using a tire jack. Failure to chock the wheels can cause the car to move around or slip off the tire jack, especially due to the body style of the Charger.
A wheel chock can be anything placed in front and behind a tire to stabilize the vehicle, and it's standard for owners to be instructed to use chocks when using a tire jack.
Wheel chocks can be purchased, but for many people they simply grab something (rock, board, etc.) to chock the wheels/tires.
Chrysler says three people have received minor injuries from not using wheel chocks when changing the tires, so the automaker will supply chocks for all 441,000 cars. Owners should read the manuals about how to place the chocks diagonally opposite to the wheel being changed to help stabilize the vehicle.
Based on how some people need the government or the automaker to play babysitter, maybe the next recall will require mechanics to ride along with owners in case a flat tire occurs because giving away wheel chocks doesn't mean the chocks will be used.
Fiat Chrysler says 441,578 of the 2011-2016 Dodge Chargers are in the U.S., 19,229 cars are in Canada, 4,969 in Mexico and 38,947 outside the region.
Chrysler says the wheel chocks are not currently available. Owners will be sent an interim notification by early April 2016. A second letter will be mailed when the chocks are available.
Owners with questions or who need help reading their owner's manual should call 800-853-1403.
The wheel chock recall is another example of how automakers can sometimes be expected to become Overlords of car owners because of a lack of personal responsibility.
A good example is the tire pressure monitoring system mandated by the government because of safety problems related to under-inflated tires.
Instead of owners simply checking their tires with a pressure gauge, automakers were forced to manufacture vehicles with monitoring systems that have caused multiple expensive recalls and lawsuits.
An additional example is a massive lawsuit filed against 10 automakers concerning keyless ignitions. The automakers were sued because people forgot to turn off the cars before exiting the vehicles.
CarComplaints.com has complaints about the model year Dodge Chargers named in the recall: