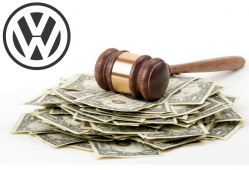 — Volkswagen is receiving one hell of an invoice from 22 attorneys representing about 475,000 owners of 2-liter vehicles equipped with illegal emissions "defeat devices."
According to a report from Reuters, if approved by a federal judge, attorneys will receive $175 million for their trouble in the emissions scandal after VW agreed to pay that amount for fees and expenses.
Those attorneys built the case against Volkswagen after the automaker admitted it has spent years deceiving consumers and the government over "clean diesel" emissions.
Owners of about 475,000 vehicles learned that instead of helping the environment, their vehicles have been emitting illegal levels of nitrogen oxides for at least seven years.
Volkswagen has already agreed to pay $10 billion to settle lawsuits concerning about 475,000 U.S. owners of 2-liter vehicles, and another $5 billion to settle environmental claims. The $175 million to the attorneys will be in addition to the $10 billion.
For people trying to keep a running total of how much money Volkswagen has lost because of its fraud, so far the automaker has agreed to pay the following:
$10 billion to owners of 2-liter vehicles for vehicle buybacks and compensation
$5 billion to cover fines related to environmental damages
$1.2 billion to dealerships
$600 million to 44 U.S. states
Although the $175 million is a lot of money for 22 attorneys, it's not close to the maximum $332 million in expenses and fees the attorneys originally requested. Further, class-action attorneys argued the normal standard fee structure is based on 25 percent of the settlement amount, so even the $332 million wasn't close to what they would normally receive.
And keep in mind the $175 million does not include potential fees VW will pay to lawyers for representing owners of about 85,000 illegal 3-liter vehicles.
On October 18, U.S. District Judge Charles Breyer will decide whether to approve the agreements with owners and their lawyers.