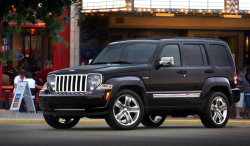 — It seems 2012 Jeep Liberty airbag lights are consistently upsetting owners who know those lights mean the airbag systems won't work correctly in a crash.
The National Highway Traffic Safety Administration (NHTSA) has received 44 complaints from 2012 Jeep Liberty owners about warning lights illuminating because of failures of the occupant restraint controller modules.
Replacing those modules can cost hundreds of dollars, something 2012 Liberty owners know all too well.
"To fix the airbag light it would cost about $400. We are retired and on a fixed income and $400 was not an option at this time. We have owned this vehicle since brand new, it has less than 40,000 miles on it. And from everything I am reading about complaints on this vehicle it is a common problem." - 2012 Jeep Liberty owner / Dearborn, Michigan
NHTSA says owners report the modules must be replaced to get the airbag lights off and the airbags working once again. Some owners haven't been able to afford the repairs, while other owners say Chrysler should have recalled the Jeeps long ago.
"As so many others with a 2012 Jeep Liberty, my airbag warning light came on. Took it in for the head restraint recall and was told it would not fix the warning light problem. It would probably need a new module. This seems pretty sketchy to me. Chrysler needs to fix the issue and stop trying to brush it under the rug." - 2012 Jeep Liberty owner / Roanoke, Texas
Safety regulators say complaints about airbag warning lights also occur in Liberty SUVs prior to 2012, but those appear to be less frequent.
CarComplaints.com will update our website with results of the 2012 Jeep Liberty airbag light investigation that includes more than 100,000 SUVs.