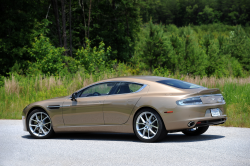 — Aston Martin has ordered two recalls that include about 5,500 cars, some models that will set you back up to $300,000 each.
Aston Martin DB9, DBS, Rapide, Virage and Vanquish
Problems that can cause the cars to roll away have caused the recall of about 3,500 of the following vehicles equipped with a 6-speed Touchtronic II automatic transmissions:
2009-2016 Aston Martin DB9
2009-2012 Aston Martin DBS
2010-2015 Aston Martin Rapide
2012 Aston Martin Virage
2014 Aston Martin Vanquish
As with so many recalls, this one is caused by software errors, specifically between the engine control modules (ECMs) and transmission control modules (TCMs) that cause failures of the transmission park pawls to engage. A failure of the park pawl can cause the car to roll away, something that occurred in 2015 to an Aston Martin car.
The automaker learned about the rollaway incident in 2015 when the car left its parking space, causing Aston Martin to open an investigation that found more rollaway reports.
Because of the software error, the transmission park pawl is held out when it shouldn't be, allowing a car to roll away. Engineers found that a certain group of conditions must occur for a car to roll away.
The car key is removed from the ignition and the engine speed is more than 450 rpm.
The driver does not select PARK.
The driver does not engage the parking brake.
The vehicle is not parked on level ground.
There is a communication error between the ECM and the TCM.
The recalled cars were built between February 2008 and July 2016 and will need their transmission control module software updated once the recall begins February 1, 2018.
Concerned owners should call 888-923-9988 and refer to Aston Martin's recall number, RA-07-0028.
Aston Martin DB9 and DBS
Nearly 2,000 model year 2005-2009 Aston Martin DB9 and DBS cars are recalled because the battery cables can be damaged by the driver-side seats.
The automaker says the cables can be squished by the seats when the seats are moved to the rear as far as possible. The smashed and damaged battery cables can cause short circuits and fire dangers, so Aston Martin dealers will need to install routing blocks to protect the cables.
The recall should begin February 1, 2018, but owners with questions should contact the automaker at 888-923-9988 and give them recall number RA-18-0026.