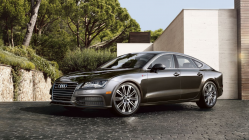 — Audi is recalling 48,600 model year 2012-2014 Audi A6 and A7 cars after the automaker received reports of cars leaking fuel.
The fuel lines were manufactured with compression points to make it easier to install the lines. But the compression points can weaken and if the lines leak gasoline near ignition sources, complaining about smelling gas may be the least of your problems.
The problem goes back to 2013 when A6 and A7 cars with 3-liter TFSI engines started leaking gas, something that caused Audi to open an investigation. As the investigation continued, so did the number of complaints, so Audi updated the software for the gearboxes.
The thinking was that if the shifting was optimized, there would be less vibration and strain on the fuel lines. However, complaints about fuel leaks continued after the software updates, but a test of 11 fuel lines showed no problems.
The automaker learned of additional complaints in October and November 2017 on cars that had the updated gearbox software, so after four years Audi decided to recall the cars.
Affected A6 and A7 owners who already paid for repairs will have the opportunity to be reimbursed by Audi.
The Audi A6 and A7 recall should begin February 5, 2018, when dealers will begin replacing the gas lines.
Owners with questions or concerns should call 888-237-2834 and ask about recall number 20AR.
CarComplaints.com has complaints about the Audi A6 and Audi A7.