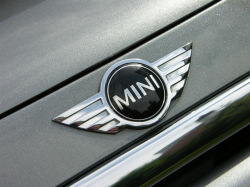 — The National Highway Traffic Safety Administration (NHTSA) has closed an investigation that was opened in 2015 concerning BMW and how the automaker conducted recalls and filed federal reports.
In 2014, the feds had tested two MINI Coopers to see how the cars handled side impact crashes and following the tests, NHTSA said it looked like BMW ignored problems that should have been addressed.
Following an additional test, BMW told NHTSA that certification for 2014 MINI Cooper Hardtops was based on the testing of 2014 MINI Cooper S Hardtops, even though the Cooper S is a heavier car.
In January 2015, BMW recalled certain MINI Coopers to install foam patches in the rear door panels, then another MINI recall was ordered to change vehicle weight and capacity information on the tire labels.
But what got the attention of NHTSA was when BMW said a "service campaign" would be performed to add padding to the rear side panels of 2015 MINI Cooper 2-door Hardtops, but the automaker never started the campaign. To top it off, the automaker didn't mention anything to the government about failing to conduct the campaign.
NHTSA said BMW should have known about rear passenger safety problems in MINI vehicles and should have known those problems needed to be fixed. In addition, safety regulators said BMW failed to notify them about recalls in a timely manner.
BMW was hit with with a consent order in December 2015 after the automaker admitted it failed to conduct timely recalls, failed to file quarterly reports in a timely manner, failed to contact owners about safety defects, failed to tell NHTSA about delays in sending dealer notices and failed to submit copies of recall-related documents in a timely manner.
That's a lot of failures, and NHTSA imposed a $40 million civil penalty against BMW for those failures.
The consent order also required BMW to appoint an independent safety consultant to assist in creating better methods for complying with the Safety Act and evaluating safety issues.
BMW was also told to create a program to train dealers on the importance of not selling vehicles with unrepaired safety defects and to improve dealers' access to information necessary to increase completion of open (unrepaired) recalls.
NHTSA says it is closing the investigation because by agreeing to the consent order, BMW has admitted to violating the law and so far has played by the rules. However, by closing the investigation, NHTSA says it has no bearing on BMW's responsibility to follow terms of the consent order.