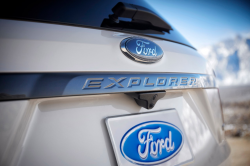 — A Ford Explorer carbon monoxide recall should be ordered for 2011-2017 SUVs to protect occupants from exhaust fumes, at least according to what the Center for Auto Safety (CAS) says about 1.3 million Explorers in the U.S.
Just days ago, Ford announced a "complimentary service" program for non-police Explorers to give consumers piece of mind about the SUVs the automaker says are safe.
The National Highway Traffic Safety Administration (NHTSA) has been investigating complaints about Explorer SUVs that allegedly leak exhaust fumes into the cabins and make occupants sick from carbon monoxide exposure.
Ford has continually said the 2011-2017 Explorers are not affected by carbon monoxide problems and a recall isn't necessary, but the automaker decided to offer the customer service program to calm fears felt by owners.
Without calling it an official recall, dealers will replace the liftgate drain valves, reprogram the air conditioners and seal the rear of the SUVs. The work will be performed regardless of age or warranty status of the Explorers.
The free customer program may sound good to some Explorer owners, but the Center for Auto Safety says the program doesn't go far enough and the automaker should not be allowed to get by with anything less than an official recall.
CAS says if Ford doesn't step up to the plate and order a recall, NHTSA should step in and put pressure on the automaker, especially considering the number of SUVs involved in the U.S.
CAS says Ford is creating a pattern of non-recall actions concerning carbon monoxide and exhaust fume problems because the automaker created a similar program for Explorers used for law enforcement, known as Ford Explorer Police Interceptors.
While the automaker denies carbon monoxide is an issue in non-police Explorers, Ford has acknowledged Police Interceptors have been affected by carbon monoxide. However, Ford says police agencies have been affected by carbon monoxide because of work performed on the SUVs after they left the factories.
That work consists of unsealed holes and gaps created to install radios, computers, lights, sirens and other types of equipment used by law enforcement.
Although Ford says it isn't responsible for those holes and exhaust leaks, the automaker created a program where engineers were sent out across the country to find and fix any gaps and holes not properly sealed in the SUVs.
According to CAS, the consumer Explorers should be recalled so that Ford will be forced to notify every 2011-2017 SUV owner and do everything possible to get those vehicles repaired. CAS claims Ford has done everything possible to avoid an official recall in the past by issuing technical service bulletins to dealers about what to do if customers complain.
Ford says a decrease in customer complaints proves those bulletins did their job and no recall has been, or is, required. But the safety organization says while the bulletins may have helped, they only helped owners who took the time to complain to dealerships, leaving a recall the only safe course of action.
Read owner-reported complaints about Explorer exhaust systems: