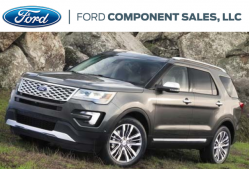 — Ford is recalling 630 wheel hub bearing assemblies sold by Ford Component Sales to aftermarket parts resellers Timken and SKF.
The wheel hub bearing assemblies were shipped between March 6, 2017, and March 23, 2017, as replacements for certain 2011-2017 Ford Explorer front-wheel-drive SUVs. However, the assemblies aren't compatible for the rear wheel hubs of front-wheel-drive Explorers.
The hubs of drive axles rely on halfshaft retaining nuts to secure the bearings while the non-drive axle hubs have self-retention features, so missing halfshaft retaining nuts will cause loose hubs, and dangerous hubs. A driver will likely hear a grinding or rubbing noise from the brake rotors, or experience wheel wobbling while driving.
In addition, the antilock brake light will illuminate, but more trouble will be on the way. Once the caliper or caliper bolts break, the rear wheel could separate from the Explorer. However, Ford Component Sales says no reports of crashes or injuries are known.
Ford learned of the problem in August when Timken notified Ford Component Sales of a customer complaint about a wheel hub bearing assembly sold for use on the rear, non-drive axle of a two-wheel-drive Explorer. However, the hubs were designed only for usage on drive axles.
Ford learned the incorrect rear axle wheel hub for a front-wheel-drive Explorer has part number HB5Z-1104-C, while the correct number is BB5Z-1104-A. Ford also notes the affected parts are the type sold to aftermarket parts resellers without the Ford logo.
Ford didn't provide a recall date because Ford dealerships apparently didn't sell any of the recalled parts, so if you believe you may own one of the recalled parts purchased from Timken or SKF, contact the automaker at 866-436-7332.
CarComplaints.com has complaints about the SUVs named in the Ford Component Sales recall: