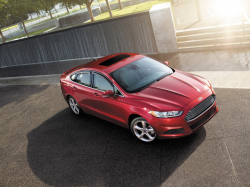 — Ford is recalling 230,000 1.6-liter GTDI vehicles because they could catch on fire under the hoods, something that has occurred at least 29 times.
Recalled are 2014 Ford Escape, 2014-2015 Ford Fiesta ST, 2013-2014 Ford Fusion and 2013-2015 Ford Transit Connect vehicles that can overheat due to a lack of antifreeze.
Ford says a lack of coolant circulation could cause the engine to overheat and experience a crack in the cylinder head. A cracked head can cause pressurized oil leaks, oil that can leak onto hot engines.
The automaker says the 29 reported fires occurred in the U.S. and Canada, but no injuries have been reported.
The 2014 Escape was built February 12, 2013, to September 2, 2014, the 2014-2015 Fiesta ST was manufactured from January 22, 2013, to May 27, 2014, the 2013-2014 Fusion was produced between February 15, 2012, to June 6, 2014, and finally the 2013-2015 Transit Connect was built between June 13, 2013, to December 14, 2014.
The number of recalled vehicles with 1.6-liter GTDI engines include 208,584 in the U.S., 21,854 in Canada and about 318 in Mexico.
Ford says an owner can continue to drive the vehicle but should talk to a dealer if an antifreeze leak is noticed or if the engine is overheating.
Ford doesn't know when the recall will begin because replacement parts aren't available. Interim notices informing owners of the safety risks are expected to be mailed April 18, 2017. Then owners will receive second notices when parts become available, currently expected to be in late-2017.
Ford dealers will eventually install coolant level sensors and supporting hardware and software.
Affected owners may contact Ford at 866-436-7332 and ask about recall number 17S09.