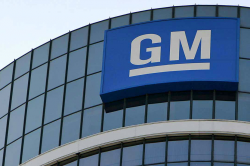 — General Motors is recalling nearly 41,000 vehicles that were already recalled once before to fix problems with frontal airbags and seat belt pretensioners that can fail in a crash.
2014-2016 Buick Lacrosse
2014-2016 Chevrolet Spark EV
2014-2016 Chevrolet Caprice PPV
2014-2016 Chevrolet SS
2014-2017 Buick Encore
2014-2017 Chevrolet Corvette
2014-2017 Chevrolet Silverado 1500
2014-2017 GMC Sierra 1500
2015-2016 Cadillac Escalade and Escalade ESV
2015-2016 Chevrolet Tahoe
2015-2016 Chevrolet Trax
2015-2016 Chevrolet Suburban
2015-2016 Chevrolet Silverado 2500 and 3500
2015-2016 GMC Yukon and Yukon XL
2015-2017 GMC Sierra HD 2500
GM filed a recall in September 2016 involving 4 million vehicles that needed new sensing and diagnostic module (SDM) software. The supplier of the modules included a routine test in the module software that can be activated and interfere with the proper deployment of the frontal airbags and seat belt pretensioners.
In April 2017, GM was conducting an audit of a GM dealership's warranty and recall records and found three instances in which the dealership failed to successfully reprogram the SDM with the correct software. However, the dealer input information into GM's system that the recalls had been completed.
GM investigated how dealers were performing recall repairs on 30,000 vehicles and determined some of the vehicles failed to receive the correct recall software.
Out of 3 million vehicles that received recall service, the automaker believes about 41,000 vehicles didn't receive the correct software, something that made the recall useless in those vehicles.
GM dealers will reflash the sensing and diagnostic modules with new software or will replace the modules with new modules containing the newest software.
The automaker doesn't know when the recall will begin, but owners of the affected vehicles may call the following numbers and refer to recall number 17287.
Buick: 800-521-7300
Cadillac: 800-458-8006
Chevrolet: 800-222-1020
GMC: 800-462-8782
CarComplaints.com has complaints about the vehicles named in the recall: