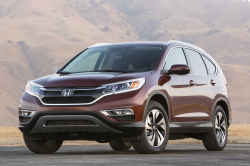 — Nothing like finding out your replacement engine needs to be replaced, but that's the case for 16 model year 2015-2016 Honda CR-V SUVs.
The vehicles previously had their engine short blocks replaced in the U.S., but the short blocks may have been built with pistons specifically for markets outside the U.S. The automaker can thank a technician at a dealership for realizing the wrong pistons were used in the engine short blocks.
Honda learned about the problem in February 2017 when the technician realized the pistons on the replacement engine didn't match the original engine.
The automaker opened an investigation and determined port injection (PI) pistons may have been installed in the direct injection (DI) engine block during assembly. This incorrect piston specification decreases the compression and causes reduced performance, increased fuel consumption and possible stalling conditions.
The automaker says although the engines may stall, no reports of crashes or injuries have been recorded.
Honda says it is trying to contact owners of the 16 SUVs by phone to schedule appointments with dealers, and mailed notices should arrive sometime in June 2017.
The automaker didn't indicate how long it will take to make the needed repairs.
If you believe you own one of the recalled CR-V SUVs, you may contact Honda 888-234-2138 and refer to recall number KF6.