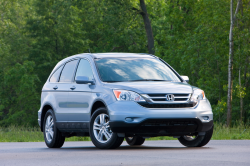 — Honda has more airbag problems, this time in CR-V SUVs, but this time none of the problems are related to airbags that explode.
Honda says it's recalling about 630 model year 2007-2011 CR-V SUVs because the passenger frontal airbag inflator repair kits were built with the wrong wire harnesses. The automaker says all the recalled vehicles have had the passenger frontal airbags replaced in the past.
In May 2017, Honda opened an investigation after the automaker received two reports about incorrect wire harnesses in CR-V inflator kits.
Honda says it now uses replacement airbag inflators from suppliers other than Takata. Every replacement airbag inflator kit comes from a company that assembles wire harnesses with the appropriate inflators for a specific model.
Some of the replacement kits designed for Honda CR-V SUVs may have been assembled with wire harnesses that should be used only in Honda Fit replacement inflator kits. Although the inflator won't rupture, the airbag won't deploy correctly and won't protect a passenger in a crash.
Honda says it has received three reports about the incorrect wire harnesses, but no crashes or injuries have occurred because of the airbag problems.
The CR-V recall should begin August 1, 2017. Honda dealers will replace the passenger frontal airbag inflators if dealers see the wrong wire harnesses were used.
If you own a 2007-2011 Honda CR-V and have questions about the recall, please call 888-234-2138 and use recall number KF9.