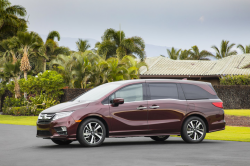 — Honda has minivan problems and has ordered a recall of more than 3,900 Odysseys to fix those problems.
The 2018 Honda Odyssey minivans have third-row seat belt tongues that may not be compatible with the latches.
Honda learned of a possible problem in May 2017 when it received a report of a third-row center seat belt that refused to buckle.
The automaker opened an investigation and tracked the issue to a supplier and determined the third-row seat belts use different seat belt tongues for the outer compared to the center seating positions.
Apparently the supplier of the third-row seat belt assemblies installed outer seat belt tongues onto center seat belt assemblies. The biggest sign of this is a seat belt that won't latch into place, leaving an occupant unprotected in a crash.
Honda has received two complaints and one warranty claim, although no reports of injuries or crashes related to this issue.
The recall should begin July 24, 2017, when Honda dealers will start inspecting the Odyssey minivans to make sure the seat belts are correct.
Dealers will replace any seat belts equipped with incorrect tongues.
If you own a 2018 Honda Odyssey and have questions, contact the automaker at 888-234-2138 and ask about recall number KF7.
CarComplaints.com has owner-reported complaints about Honda Odyssey minivans and many other Honda vehicles.