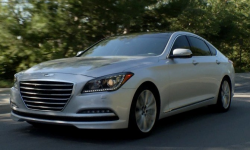 — Hyundai is recalling more than 161,000 model year 2015-2016 Sonata and Genesis cars because of parking brake problems.
According to Hyundai, the warning light used to indicate when the parking brake is applied may not illuminate due to corrosion of the parking brake switch. This could cause a driver to possibly leave the parking brake engaged while trying to drive the car.
In May 2017, Hyundai heard from regulators in South Korea about possibly ordering a recall due to the parking brake switch. The automaker says although no crashes or injuries have been reported, the parking brake switches need to be replaced.
If a driver doesn't see a parking brake warning light even though the parking brake is applied, driving the Sonata or Genesis may cause noise from the brakes, the feeling of the car being held back while trying to accelerate and a driver may notice smoke or a burning smell from the brakes.
The Sonata and Genesis parking brake switch recall will begin June 30, 2017. Hyundai dealers will replace the parking brake switches, but owners with questions should call the automaker at 855-671-3059.
Hyundai's number for this recall is 164.
CarComplaints.com has complaints about the Hyundai Sonata and Hyundai Genesis.