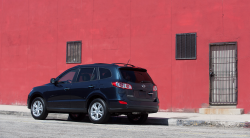 — A Hyundai Santa Fe engine stall class-action lawsuit is finally settled and over as a federal judge gave final approval to the settlement terms concerning 2010-2012 Hyundai Santa Fe SUVs.
The class-action lawsuit was filed by lead plaintiffs Julia Reniger and Greg Battaglia who claim their SUVs kept stalling without warning, causing problems with trying to steer and stop the SUVs.
The plaintiffs allege Hyundai knew about the stalling problems but concealed the information from consumers and making trips to dealerships didn't help because dealers typically said the problems couldn't be duplicated.
In the case of Julia Reniger, she claims numerous dealer visits did nothing to help and she finally traded in the Santa Fe. The dealer had changed the battery and worked on the throttle body, but Reniger claims the SUV continued to stall while traveling at various speeds.
Throughout the years, Hyundai Santa Fe owners have complained about their engines stalling at every speed, including highway speeds where stalling engines can raise hell with other drivers.
"I have a 2012 Santa Fe that stalls on the freeway at speeds of 60-80mph. This has happened at least every couple of weeks since I bought this POS car back in March 2013. I've taken it in numerous times. Of course, they cannot replicate the error. I actually have video of me driving on the freeway with NO RPMs and while keeping my foot pressed all the way down on the accelerator, got the car back up to 70 with ZERO RPMs. How the hell does that happen? Dealer thinks I'm nuts." - 2012 Hyundai Santa Fe owner / Gilbert, Arizona
"In October 2015, my 2011 Hyundai Santa Fe lost acceleration while going 70 mph in the left lane. We could have been killed, but were able to flag cars to slow down so we could coast to the right side of the highway to stop. This is the second time this has happened. ...Hyundai appears to want to wait until someone dies before fixing it. Hyundai won't do a buyback for me. I read that there was a class action lawsuit regarding the stalling in CA, but don't know it's status." - 2011 Hyundai Santa Fe owner / Strawberry Plains, Tennessee
A previous customer service campaign told owners the problem only occurs when a specific set of operating conditions are present and the SUVs can be restarted once they stall, claims the plaintiffs say are false.
With the 2010-2012 Hyundai Santa Fe engine stall class-action lawsuit finalized by the court, the automaker agrees to reimburse customers on a claims-made basis for out-of-pocket costs if the customer's SUV experienced a documented stall. In addition, a software update will be available for free for 10 years after the date the SUVs were sold as new.
In addition, the automaker will provide a special cash incentive on a claims-made basis to customers who wish to replace their Santa Fe SUVs.
Hyundai is also offering an enhanced rebate program that provides rebates from $500 to $2,000 for customers who experienced two documented stall events.
For those who experienced one documented stall event, Hyundai is offering a rebate of $250 to $1,000 on the purchase or lease of a new Hyundai vehicle, depending upon the specific new vehicle purchased or leased.
Finally, any dealer or customer incentives that otherwise would be available to customers at the time of the new vehicle purchase or lease will remain available notwithstanding availability of the rebate certificate or enhanced rebate certificate.
The Hyundai Santa Fe engine stall class-action lawsuit was filed in the U.S. District Court for the Northern District of California - Julia Reniger, Greg Battaglia, Oren Jaffe, Lucia Saitta and Ann Mancuso, et al, v. Hyundai Motor America and Hyundai Motor Company.
The plaintiffs are represented by Glancy Binkow & Goldberg LLP.
CarComplaints.com has complaints about stalling engines in 2010-2012 Hyundai Santa Fe SUVs: