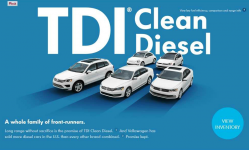 — Volkswagen's emissions problems are far from over even though the company has paid billions in the U.S. alone for equipping vehicles with illegal software that fooled emissions test machines and regulators for years.
According to a lawsuit filed against Volkswagen by the state of Arizona, Volkswagen argues that charges of consumer fraud are without merit because VW's claims of "clean diesel" vehicles were nothing more than "puffery," often found in promotional materials.
VW says it has already admitted hundreds of thousands of its vehicles in the U.S. contained illegal software to control emissions, but fraud charges from Arizona should be dismissed because advertising diesel vehicles as "clean" is legal puffery, just exaggerated claims no consumer would depend on to make a purchase.
As such, Volkswagen says its marketing statements weren't meant to imply the automaker was specifically making claims about nitrogen oxide emissions.
According to VW, Arizona shouldn't try to define "clean" when legally the word has no meaning, and Volkswagen says examples abound concerning how the word "clean" is used.
Attorneys for VW say there are different degrees of cleanliness based on what subject is being talked about, for example: a clean bedroom, clean operating room, clean locker room, etc. In other words, there are different degrees of cleanliness based on the location, not based on the word "clean."
VW also says the Arizona lawsuit has no objective meaning for the word "clean," so VW can't be charged with fraud for using that word.
As for advertisements that implied diesel is no longer dirty, VW says there is no standard to measure "dirty" or "clean." However, Arizona argues that "puffery" cannot apply to intentional deceptive practices that continue for years.
While Volkswagen argues in Arizona that its "clean diesel" claims were just exaggerations, the Federal Trade Commission (FTC) didn't see it that way and won a case against VW over false advertising.
The FTC lawsuit accused the automaker of deceiving consumers by advertising diesel vehicles as "clean" even though the vehicles were equipped with illegal "defeat devices" that caused the vehicles to emit up to 40 times the legal levels of nitrogen oxides.
The FTC said Volkswagen deceived consumers for at least seven years by selling or leasing more than 550,000 diesel cars based on false claims that the cars were low-emission, environmentally friendly, met emissions standards and would maintain a high resale value.
As part of its campaign against VW, the FTC pointed toward diesel advertisements and videos that VW used to sell the vehicles, touting the environmental benefits of the cars. Those ads appeared just about everywhere, including during the Super Bowl and even more so in areas that targeted consumers who wanted to drive vehicles that wouldn't harm the environment.
Volkswagen settled the FTC claims by admitting the automaker violated the FTC Act through the deceptive and unfair advertising of its "clean diesel" vehicles.
Puffery
Other automakers have faced lawsuits over allegedly deceptive advertising and beat back those claims by arguing the advertising slogans were nothing more than mere puffery. In a lawsuit filed against General Motors, a judge dismissed the case after finding GM's marketing was only an exaggeration.
The owner of a Chevrolet Suburban filed the lawsuit alleging the braking system was defective, making GM's marketing claims deceptive and fraudulent. The lawsuit mentioned GM's marketing that vehicles were "like a rock" and the "most dependable, long-lasting trucks on the planet."
The lawsuit was dismissed when the judge ruled GM's advertisements "constitute mere puffing," as they "are generalized and exaggerated claims, which a reasonable consumer could not rely upon as statements of fact." The court also ruled the advertisements "make no reference whatsoever to . . . the . . . quality of the vehicles' braking system."
Ford also saw a lawsuit dismissed over its "Built Ford Tough" slogan the judge said was "nonactionable puffery" that makes a generalized or exaggerated statement "such that a reasonable consumer would not interpret the statement as a factual claim upon which he or she could rely."