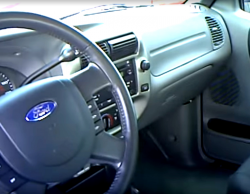 — Drivers of more than 33,400 model year 2006 Ford Ranger trucks are warned to park the trucks and immediately contact dealers to have their Takata airbags repaired.
In addition to the Rangers, about 1,800 model year 2006 Mazda B-Series trucks are recalled because the trucks were built by Ford and use the same Takata airbags.
All the Ford trucks are included in a previous Takata airbag recall, and a month ago Ford warned 3,000 Ranger drivers to park the trucks. Ford says this latest warning comes from the trucks being transferred to an "elevated risk of safety" caused by the airbag inflators at a higher risk of exploding in a crash.
The automaker says dealers will tow the Rangers back to the dealerships and if needed, provide loaner vehicles to customers. Dealers say the repairs will be the final fix to resolve the known safety risk.
In January, Ford recalled 3,000 model year 2006 Rangers after two people were killed by exploding airbag inflators. Those inflators were manufactured on the same day, causing Ford engineers to ramp up testing of the inflators.
One of those deaths occurred in a 2006 Ford Ranger in December 2015 when 52-year-old Joel Knight was driving the truck when it hit a cow in South Carolina. The initial crash caused the truck to jump off the road and hit a fence. Mr. Knight was wearing his seat belt but died from puncture wounds to his throat caused by the ruptured Takata airbag inflator.
In December 2017, Ford confirmed another death caused by a Takata airbag in a 2006 Ford Ranger, this time in West Virginia.
Ford determined the data showed higher pressures inside inflators built during the same period as the inflators that killed two drivers. Engineers also found a higher level of ruptures caused by the propellant used to deploy the airbag, ammonium nitrate.
The 33,400 Ranger trucks were built from August 10, 2005, to December 15, 2005, and from August 5, 2005, to November 4, 2005.
Ford says 30,603 of the recalled trucks are located in the U.S. and 2,825 are in Canada.
Prior to this latest action, the driver-side and passenger-side airbag inflators in 2004-2006 Ranger trucks were already under a December 2017 recall.
The warning from Ford is real and Ranger owners better take it seriously. It won't cost anything to have the trucks repaired permanently and Ford will cover the towing and rental car bills.
Please park your Ranger and contact your dealership by referencing recall number 18S02.
Ford Ranger Complaints: 2004 / 2005 / 2006 / All model years