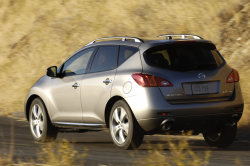 — Nissan Murano ABS (anti-lock braking system) problems may be to blame for at least 14 crashes and three injuries after model year 2009 Murano drivers experienced soft brake pedals and increased stopping distances.
The National Highway Traffic Safety Administration (NHTSA) says in addition to the crash and injury reports, at least 480 complaints have been filed alleging issues with the ABS hydraulic control units (HCUs).
NHTSA opened a preliminary investigation in May 2017 after 2009 Murano owners kept complaining about soft brake pedals and other braking problems.
Safety regulators say the investigation has now been upgraded to include more than 108,000 model year 2009 Nissan Murano SUVs suspected of being equipped with faulty ABS control units supplied by Continental Automotive Systems.
NHTSA says it tested hydraulic control units and discovered a zinc coating used on the normally closed valve assemblies inside the units may react with brake fluid, forming a gelatinous material that can harden with time and prevent the valve from closing after the ABS systems have been activated.
Nissan says it's aware of what occurs, but the automaker argues full braking is available once the pedal travels an additional distance of about 36 mm. Nissan says its engineers are still investigating the issue but the automaker says it hasn't found an "unreasonable risk to motor vehicle safety."
However, Nissan did recently announce a customer satisfaction campaign for 2009 Muranos to flush the brake systems, install new DOT 4 brake fluid and inspect and possibly replace the ABS units.
NHTSA says the upgraded investigation will not only focus on 2009 Muranos, but safety regulators want to know if other Nissan models may be affected.
The government just days ago announced an upgraded investigation into soft brake pedal problems in more than 1 million Ford vehicles equipped with ABS hydraulic control units supplied by Continental Automotive Systems.
Read what owners say about 2009 Murano brake problems here and here.