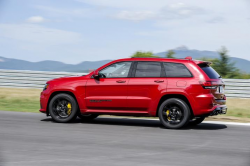 — A Jeep Grand Cherokee recall has been issued for 6,745 SUVs because the driver's side floor mats may interfere with and trap the accelerator pedals.
Chrysler (FCA US) says the 2018 Jeep Grand Cherokee SRT and Jeep Grand Cherokee Trackhawk SUVs need replacement floor mats from dealers, but until then owners need to remove the driver-side mats.
Although serious unintended acceleration events related to floor mats have caused numerous problems and recalls from various automakers, thankfully the 2018 Grand Cherokee is equipped with a brake-throttle override safety feature.
If the SUV senses the brake pedal is applied at the same time accelerator pedal input is sensed, the feature will cancel out the accelerator input.
FCA says it hasn't received any reports about crashes or injuries related to the floor mat problems.
About 4,822 of the Jeep Grand Cherokees are in the U.S., nearly 1,000 are in Canada, Mexico has about 164 SUVs that need new mats and about 763 Grand Cherokees are outside North America.
In addition to the recall of 2018 Jeep Grand Cherokee SRTs and Trackhawks, Chrysler is recalling 11 sets of floor mats sold as accessories between November 2017 and March 2018.
The Jeep Grand Cherokee recall is expected to begin December 18, 2018. Dealers will replace any affected floor mats, but concerned owners may contact Chrysler customer service at 1-800-853-1403.
Chrysler's number for this recall is UB3.