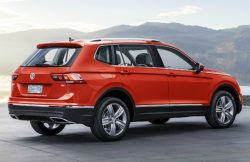 — Volkswagen is recalling its 2018 Tiguan long-wheelbase SUV for the third time, this time because the lower ball joints can separate and cause all manner of trouble with steering, traction and stability.
The 360 SUVs have nuts that are supposed to hold the lower ball joints of the front wheels on each side of the vehicles. However, VW says the bolts may have come out of the factory too loose to hold the parts together.
The automaker has already notified customers and let them know that dealers will replace the nuts on the lower ball joints.
Volkswagen says the SUVs should remain parked until dealers get them repaired, but with questions customers should call 800-893-5298. Volkswagen's number for this recall is 40N4.
As mentioned earlier, this is the 3rd recall for the new 2018 Volkswagen Tiguan long-wheelbase SUVs, with the previous recall being announced in May 2018 because of problems with the shocks.
Prior to that, VW recalled the SUVs because the backup lights in the tail light assemblies weren't bright enough.