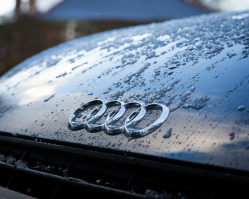 — An Audi coolant pump class-action lawsuit alleges more than 340,000 vehicles are at risk of fires even though the automaker has recalled the vehicles twice.
The lawsuit includes vehicles equipped with 2-liter turbocharged four-cylinder type EA888 Evo2 engines.
2013-2017 Audi A4
2013-2017 Audi allroad
2013-2017 Audi A5
2013-2017 Audi A5 Cabriolet
2012-2015 Audi A6
2013-2017 Audi Q5
Plaintiff Scott D. Sager purchased a used 2013 Audi allroad in 2018 and soon learned the vehicle was recalled to replace the coolant pump. Sager says he contacted a dealer but was allegedly told no replacement coolant pumps were available and wouldn't be for months.
The plaintiff claims the dealership told him he shouldn't drive the Audi until the pump was replaced, but the plaintiff says the dealer refused to provide a loaner vehicle.
Sager doesn't claim his Audi suffered any problems from the coolant pump, but Audi admits moisture can enter the pump and cause a short-circuit that could lead to a fire.
Volkswagen and Audi have been aware of the coolant pump problems since at least 2016 because a recall was ordered to install software that allegedly deactivated the power supply to the coolant pump if the pump got blocked by debris. The debris could further lead to moisture issues.
The "fix" was supposed to prevent coolant pump fires, but owners continued to complain about overheated pumps even after the software was updated.
Audi ordered another recall in April 2018 to replace the coolant pumps, but the automaker admitted the newly designed replacement pumps wouldn't be available until November 2018.
In the interim, dealers were told to replace the pumps with identical pumps that would allegedly last until the permanent replacement pumps were installed.
According to the lawsuit, Audi sent letters to owners in June warning customers to park their vehicles outdoors and away from anything that may burn if the coolant pumps cause fires.
The plaintiff claims owners and lessees should have been offered free loaner vehicles until dealers were able to install the permanent replacement coolant pumps. In addition, the plaintiff says Audi told its dealerships to inform consumers the vehicles are safe to drive when they allegedly are anything but safe.
Attorneys for the plaintiff claim Audi customers would not have purchased their vehicles if the automaker would have told them about the coolant pumps.
The Audi coolant pump class-action lawsuit was filed in the U.S. District Court for the District of New Jersey - Scott D. Sager, et al., v. Volkswagen Group of America, Inc., and Audi of America, Inc.
The plaintiff is represented by Lemberg Law, LLC.
CarComplaints.com has complaints you can read from owners of the Audi vehicles included in the coolant pump lawsuit.