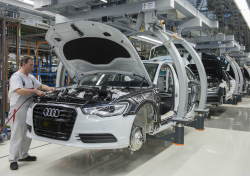 — An Audi 3-liter emissions defeat device class-action lawsuit isn't worthy of going to trial, so says attorneys for Audi who filed a motion to dismiss the massive complaint.
A report in a German newspaper sent U.S. lawyers on a suing spree as at least 13 proposed class-action lawsuits were quickly filed in 2016 alleging gas-powered Audi cars were as illegal as diesel vehicles. Those lawsuits were packaged into one class-action in 2017.
In one of those lawsuits from November 2016, the plaintiffs allege Audi secretly installed emissions "defeat devices" in 3-liter gas-powered vehicles equipped with AL 551 automatic transmissions. The gas versions of Audi A6, A8, Q5 and Q7 vehicles allegedly were created to fool emissions tests by using the steering wheels.
The German report the lawsuit is based on says when the steering wheel input doesn't exceed a 15-degree change in wheel angle, the defeat device senses the vehicle is undergoing testing in a laboratory.
The transmission is set to change the way it shifts by operating in a "low rev" mode when it detects the car is on a test treadmill, then the transmission shifts into the next higher gear sooner than it should.
The lawsuit alleges the vehicles will look good in a lab, but during normal highway driving the cars emit illegal levels of carbon dioxide.
In the consolidated class-action that includes the 2012-2016 Audi A6, A7, A8, A8L and 2013-2016 Audi Q5, Audi says the plaintiffs can't explain how they have been injured or harmed by the alleged defeat devices.
The automaker says the plaintiffs are basing their claims on speculations and are simply copying claims made in lawsuits involving diesel vehicles.
While the lawsuit alleges 3-liter owners suffered from decreased mileage, Audi told the judge none of the plaintiffs say how much fuel economy they lost because of the alleged defeat devices.
Audi also says the lawsuits are absurd because not one of the plaintiffs says they own the one vehicle that allegedly had high emissions levels. That vehicle, a 12-cylinder Audi A8L, is described as a "rare" vehicle by the automaker.
Audi also says that although none of the plaintiffs own that vehicle, the lawsuit alleges the plaintiffs did test one vehicle that emitted high emissions. However, the automaker claims the plaintiffs failed to mention what vehicle was tested.
Audi says if the plaintiffs had a case, they would have at least said in the lawsuit the make, model and year of the vehicle mentioned in the complaint.
Audi filed its motion to dismiss the 3-liter defeat device lawsuit in the U.S. District Court for the Northern District of California.
CarComplaints.com has complaints you can ready about the Audi A6, A7, A8 and Audi Q5.