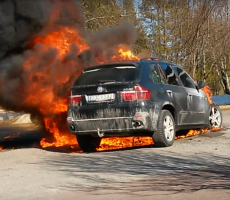 — BMW has been handed a $10 million fine by the South Korean government for "delayed recalls" involving vehicles at risk of catching fire. By the end of November 2018, 52 BMW car fires had been reported in South Korea.
The Korean Ministry of Land, Infrastructure and Transport also announced it will file a criminal complaint against BMW Korea for allegedly concealing and downplaying problems that caused cars to catch fire.
South Korean officials formed what they called a public-private investigation team of 30 law, fire and vehicle experts to investigate the cause of the fires. The experts determined coolant was leaking from the exhaust gas recirculation (EGR) systems and combining with oil and carbon sediment to ignite fires when the BMW vehicles were driven for long periods.
For its part, BMW determined there were problems with the EGR bypass flaps in the Korean cars, a slightly different finding of the experts who believe there are design problems with the EGRs.
South Korea accuses BMW of recall failures related to the fires by alleging the automaker didn't recall all the affected vehicles when it should have. BMW recalled about 106,000 vehicles in July after a trend of fire reports, but Korean regulators claim BMW should have recalled another 66,000 vehicles with the same engines and EGR systems.
The automaker, even knowing the same engines were involved, waited until October to officially recall those vehicles that included 65 models as part of a recall of 1.6 million vehicles.
Government regulators are following the advice of experts who claim design problems caused the fires and claim the automaker has known about the defects since 2015.
BMW says it handled the recalls in the correct way and the exhaust gas recirculation systems have no design defects that were concealed by the automaker.
Korean regulators say BMW fires in the U.S. haven't occurred as much because of the difference in government emissions regulations. Exhaust gas recirculation systems aren't used in the U.S. as much because BMW installed separate components to decrease nitrogen oxide emissions in U.S. cars.