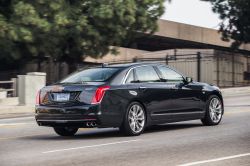 — General Motors has recalled more than 22,000 model year 2016-2018 Cadillac CT6 cars because of problems using child seats that may fail to attach to the anchorage bars.
In February 2018, a GM employee inspecting a 2018 Cadillac CT6 discovered a small amount of body adhesive on one of the car's inboard child seat anchorage bars. More CT6 cars were found in the same condition and caused GM to open an internal investigation.
The automaker didn't find any field reports about the problem, at least for 2018 models.
Engineers checked 2016-2017 CT6 cars but still found no complaints or dealer reports about adhesive on the anchorage bars. GM continued to inspect cars in its possession as well as cars owned by employees, testing whether the condition could cause problems with installing child seats.
Engineers eventually determined the problem existed in any Cadillac CT6 that was built at GM's Detroit-Hamtramck plant before September 21, 2017. Structural adhesive on the underside of the body panel was inadvertently transferred to one or both of the inboard child seat anchorage bars as the panel was lowered into position.
Additionally, the automaker also confirmed the hardened adhesive caused part of the anchorage bars to exceed federal diameter standards for child restraint systems.
General Motors says 2016-2018 Cadillac CT6 owners should install child seats using the vehicle's rear seat belts until the recall repairs are performed.
The automaker doesn't know when the Cadillac CT6 recall will begin, but dealers will remove any excess adhesive and apply anti-corrosion primer to the inboard child seat anchorage bars.
Customers with questions should call Cadillac at 800-458-8006 and request info about recall number 18228.
CarComplaints.com has complaints about Cadillac CT6 cars and many other Cadillac models.