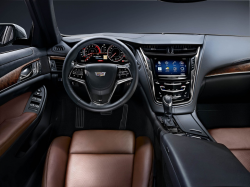 — Cadillac CTS heated seats have caused a recall of 53,500 of the cars after a CTS was remotely started and caught on fire.
The recalled 2014-2016 Cadillac CTS cars are equipped with heated front seats that contain flexible heating mats that may be damaged over time, which is what happened to a 2015 CTS that went up in flames.
After talking with the National Highway Traffic Safety Administration (NHTSA) in April 2018, GM opened an investigation after a 2015 CTS caught fire after the car was started remotely.
The damage was too severe to determine a root cause of what started the fire, but investigators believed the source was likely electrical and from the front passenger seat area.
A review of data and warranty claims showed 2014-2016 Cadillac CTS seat heaters could overheat when the cars were started by remote control. Additional investigations showed occupant pressure on the seats in the same locations can bend and damage the flexible heating mats inside the seats.
In addition, starting the cars remotely can automatically activate the seat heaters during cold temperatures and overheat due to electrical resistance created by the damaged mats.
GM says even if a fire doesn't occur, the seats, wiring and heaters can smoke, melt and cause a lot of damage to the cars. Occupants should be aware of possible problems if the seat heater does not produce any heat, produces uneven heat or produces excess heat in spots.
Cadillac dealers will recalibrate the body control modules to disable automatic activation of the heated seat functions when the cars are remotely started. However, the automaker doesn't know when the recall will begin.
Worried Cadillac CTS owners should call GM at 800-458-8006 and ask about recall number 18286.
CarComplaints.com has complaints about the 2014 Cadillac CTS, 2015 CTS and 2016 Cadillac CTS.