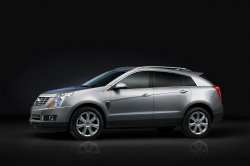 — A Cadillac SRX headlight bulb replacement lawsuit has failed nationwide class-action status but can continue for affected customers in California.
The class-action lawsuit alleges model year 2010-2015 Cadillac SRX SUVs have headlights that cost hundreds or thousands of dollars to replace once the bulbs fail.
According to the plaintiff, he purchased a used 2010 Cadillac SRX in 2012 not knowing the headlights allegedly accumulate water and moisture due to faulty seals.
The lawsuit alleges General Motors knew the headlight assemblies and seals were bad when the SUVs were sold but concealed that knowledge from consumers. In addition, the SRX lawsuit alleges the automaker ignores customer complaints about headlight bulbs that short-circuit from corrosion due to moisture.
Plaintiff Chester Steele says he noticed condensation in his SUV's headlights that got worse when it rained. Steele says at 51,600 miles the driver-side headlight failed, so he paid more than $660 for repairs but the problem allegedly continues.
Plaintiffs Francisco Campos and Angeline Krolnik-Campos purchased a used 2011 Cadillac SRX and noticed condensation in the headlights, eventually paying $1,600 to replace both headlights of the SRX. However, Campos claims the headlight problems have continued even after the replacements.
Based on court documents, the proof GM knew about customers constantly replacing the bulbs and assemblies comes from a technical service bulletin (TSB) issued to Cadillac dealers. The plaintiff also references a customer satisfaction program created by GM because of numerous complaints about the SRX headlights.
GM told technicians to replace the bulbs and connectors and in December 2011 GM issued a customer campaign offering to replace the bulbs and connectors for free. However, the automaker didn't specifically mention the alleged defects the plaintiffs talk about.
Steele claims that paying for replacement bulbs and assemblies is useless because the replacement lights are allegedly just as defective and prone to fail than the original lights and assemblies.
By ignoring the headlight problems, GM allegedly has ignored the need to recall the SUVs so owners will continue to pay up to $2,400 for replacement headlight bulbs and assemblies.
While a nationwide SRX class-action may have sounded good to the plaintiffs and attorneys, the federal judge didn't think much about the idea, at least legally where it counts.
The nationwide class was shot down when the judge ruled a Manguson-Moss claim is predicated on the Song-Beverly claim, which applies exclusively to goods sold in California, meaning the Magnuson-Moss claim may include only California customers and cannot include SRX owners outside the state.
The Cadillac SRX headlight replacement lawsuit was filed in the U.S. District Court for the Central District of California - Chester Steele v. General Motors, LLC.
The plaintiff is represented by Capstone Law APC.