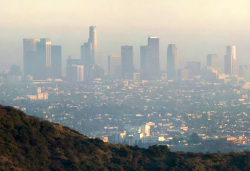 — The California Air Resources Board (CARB) has responded to a proposed federal freeze of emissions standards by releasing a proposal of its own to ensure 2021-2025 model year vehicles meet California standards.
CARB claims the new proposal is necessary because the National Highway Traffic Safety Administration (NHTSA) and the Environmental Protection Agency (EPA) are trying to undermine California's right to protect the public.
California's vehicle emissions rules were created before the federal Clean Air Act and even before the creation of the EPA. CARB says for decades the state has suffered from severe air quality problems that harm public health due to the large number of vehicles on the roads.
As part of the federal Clean Air Act, California has the legal right to set its own stricter emissions standards by requesting a waiver from the federal government when emissions standards are different than federal laws.
Over the past 50 years California has been issued more than 100 waivers that allow California, and states that adopt California's regulations, to require that automakers meet strict standards. CARB also points out that in some cases, the EPA has later adopted the tougher California standards once the benefits were realized.
Existing California regulations adopted in 2012 mean vehicles that meet federal standards for model years 2017-2025 are "deemed to comply" with standards set by CARB. This creates a nationwide program that allows automakers to meet one set of emissions standards, but CARB says a federal freeze of 2020 standards will cause automakers to meet different standards based on which state the cars are sold.
CARB wants automakers to know if they want to sell cars in California after 2020, those cars will need to meet standards set by California, not by the federal EPA.
"The 'deemed-to-comply' provision was never meant to allow a massive federal rollback to weaken public health protections in California." - CARB
If California were required to follow the federal rollback of emissions standards, global warming emissions allegedly could increase by almost 14 million metric tons per year by 2025, and nitrogen oxide emissions could allegedly increase beyond 2020 levels by more than 3,600 tons annually.
California, the District of Columbia and 17 other states sued the government in May after learning the EPA was considering freezing emissions standards in 2020.