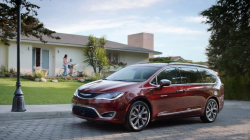 — Chrysler Pacifica engine problems have caused an owner to file a proposed class-action lawsuit that alleges the engines stall without warning.
Plaintiff Barbara Vaughn claims she bought a 2017 Chrysler Pacifica that she regrets buying and wouldn't have purchased if she had known about the safety risk to her and her family.
The lawsuit alleges the minivans are "death traps" because of the engine problems.
The plaintiff claims more than 160,000 model year 2017 Pacifica drivers and their passengers are unaware they are traveling in a minivan that can suddenly lose all engine power while driving at any speed. Based on this, the plaintiff says the engine problems cause serious safety hazards to all on the roads.
The lawsuit alleges the automaker has concealed the engine defects and even when dealers make repairs, the parts are replaced with the same defective parts that caused the engine problems in the first place.
According to the plaintiff, owners have complained about the 2017 non-hybrid minivans, but Chrysler typically says there is nothing wrong with the vehicles.
The lawsuit was filed after Chrysler recalled about 154,000 Pacifica minivans in January 2018 to allegedly fix stalling problems the automaker said could occur under a "rare set of conditions." FCA says it knows of one crash possibly caused by a minivan that stalled, but no injuries were reported.
The automaker said the engine control modules can misinterpret the operating status of the engines and cause them to stall. Dealers have been told to update the engine control software to allegedly fix the problem.
FCA recalled the minivans after a customer and the Center for Auto Safety petitioned the government to investigate customer complaints about engines that stalled.
In addition to the recall, the automaker was hit with a separate lawsuit about 2017-2018 Chrysler Pacifica minivans equipped with 3.6-liter V6 engines and 9-speed 948TE automatic transmissions.
The Chrysler Pacifica engine problems lawsuit was filed in the U.S. District Court for the Middle District of Florida - Barbara Vaughn et al., v. FCA US LLC.
The plaintiff is represented by Blood Hurst & O'Reardon LLP, Barnow and Associates PC, and Morgan & Morgan PA.